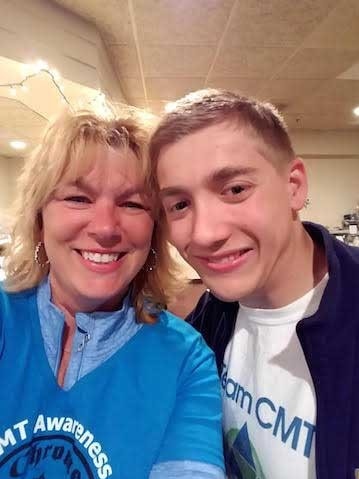 It may have been cool outside on September 9, 2017, but Rochester Chrome Divas hosted a HOT event! We hosted a Scavenger Hunt to foster awareness and help fund research for Charcot Marie Tooth Disease (CMT). This disease cuts close to home for RCD because one of our own Divas, Debi Houliares, has an amazing son (Zach) affected by CMT6. CMT disease is a family of inherited disorders of the peripheral nerves. Peripheral nerves run from the spinal column out into the extremities of the body, controlling motor function, sensation, and bodily functions. There are over 90 identified genes, in which particular mutations (changes) can cause CMT. Most people with CMT develop muscle atrophy and weakness in the arms and legs, foot drop, difficulties using the upper limbs, loss of sensation, and varying degrees of walking and balance difficulties, including the necessity of mobility aids such as leg braces, wheelchairs or scooters. There are different categories of CMT, depending on what symptoms the disease presents with, the pattern of abnormalities on nerve conduction studies, the manner in which the CMT is inherited and the specific genetic cause of the CMT.
98 Participants (55 bikes, 5 cars) enjoyed spending the day with Zach and the Divas. Grown "bikers" played Duck Duck Goose, hugged a stranger, folded laundry for a stranger, not to mention the marriage proposals going around - all while spreading the word for CMT6. Divas came in from Xenia OH, Watertown, NY and Cortland, NY to help support such a worthy cause. Other clubs joined the day not only to show the Divas support, but to learn about "Our Man" Zach. Some people came just for dinner and to enjoy the party atmosphere – not to mention the amazing basket raffles and silent auction items.
Each person had a chance to meet Zach and have their picture taken with him. We sold CMT6 Awareness patches, and we are hoping that wearing these patches will create new conversations and awareness going forward. The day was a great SUCCESS! Everyone returned safely and LAUGHING because they had sooo much fun. Many asked to be alerted about the next event.
RCD is happy to report that The Rochester Chrome Divas were able to donate over $12,200 to the Hereditary Neuropathy Foundation for CMT Type 6 research! And more continues to come in! Thanks to everyone involved!!